Tradisjonen tro har vi hatt Foto-Cup på Mai møtet. 16 fremmøtte og 25 registrerte cup bilder med
temaet «I det grønne». Ikke uventet var
det mye bilder fra naturen med et slikt tema.
I foto cup er det to og to bilder som utkonkurrerer
hverandre helt til man sitter igjen med 4 bilder. Disse konkurrer så mot hverandre til man har
plassert en 1.,2. og 3. plass. Mange jevne resultater og høy spenning.
Det ble en delt tredjeplass mellom Lennart Pettersen og Tone
Flermoen, Øystein Skjerve kom på 2.plass og Tove Bråten på 1.plass. GRATULERER!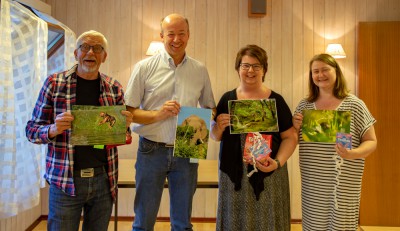 Etter kaffepause kjørte Tone kveldens bilde. Temaet denne gang var «Kontakt». Noen syntes nok dette var et litt vanskelig
tema, for bare 16 bilder var sendt inn.
Og enda dårligere var det med jurye deltagelsen. Kun 14 hadde logget seg på og vurdert bildene. Vi får skylde på det fine været.
Ti på topp ligger ute på facebook, og resultatene vil bli å
finne under konkurranser/kveldens bilde.
Tove hadde mange infosaker på lista i dag, håper alle husker
de 😉
Vi rundet av med loddtrekning.
Tove