Foto-Cup nr.8 i rekkene hadde tema: "Paraply/Umbrella". 16 møtte opp og hadde med seg 19 bilder. 19 bilder som møtte tøff konkurranse i hverandre. For Foto-Cup er ingen kjære mor. Der møtes to og to bilder hverandre til vi til slutt sitter igjen med en 1.,2. og 3.plass.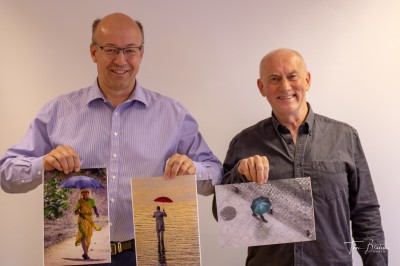 Gratulerer til Øystein og Walter med 1., 2. og 3.plass!
Etter kaffepausen var det Øystein som hadde et teknisk innlegg: Hvordan er Lightroom bygget opp? LR er et kartoteksystem for bilder med RAW editor og redigeringsmuligheter. Ingen ting ligger lagret i LR, men programmet henter informasjon fra der du har lagret originalbildet og redigering dataene. Dette og mere til om hvordan vi sikrer oss med back-up og kontroll på filene fikk vi en god forklaring på.
Tradisjonen tro førte Tone oss gjennom kveldens bilde med tema: "Husdyr". Walter hadde valgt seg ut gode bilder og bilder med forbedringspotensiale hvor han kom med råd og tips.
Tove